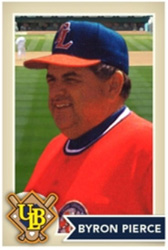 Byron Pierce • President
Byron Pierce is currently the president of Anchor Sports I, Inc., which is the sole distributor of "Anglea Turf Infield Conditioner" to high schools, colleges and park departments in a fifteen state area. Anchor Sports also holds U. S. Patent 6,142,882 on the "Big League" Base Plug. It is sold through sporting good catalogs nationwide.

Pierce co-founded the Texas-Louisiana Professional Baseball League, an eight-team league of professional independent minor league baseball teams centrally owned and operated. Pierce served as its president from 1994-2000. Pierce and his business partner, Congressman John Bryant, were two of the pioneers in the revitalization of Independent Minor League Baseball in the United States. Unlike affiliated minor league teams that are owned by major league organizations, independently owned teams and leagues have no geographical restrictions and can expand at will.
Pierce also presided over the design and construction of the first new stadium in the Texas-Louisiana League, Ozark (Springfield), Missouri, in 1999. Named Price-Cutter Park after a local grocery chain, it immediately became one of the most profitable independent minor league teams in the country and the "bowl design" set the standard for new stadium construction.
Pierce again teamed up with Mr. Bryant in 2006 and co-founded the United League of Professional Baseball and served as its president and chief operating officer. It was based on the same centrally owned and managed business plan as the Texas-Louisiana League. The ULB currently services six teams in Texas and Louisiana.
Pierce was the co-founder of MessagePhone, Inc., and served as its President from 1985 through 1989. He was instrumental in the development of the central office technology and beta testing for the company's core product, "Automatic Message Deliver", which is currently licensed to all major long -distance telecommunications companies. It is currently being marketed by MCI under the name "1-800-COLLECT." Pierce holds of seven patents on "store and forward" technology.
Pierce was a teacher and coach in both the Dallas and Garland Independent School Districts prior to entering the business world.
A 1970 graduate of Dallas Baptist University with a B.S. in Secondary Education, Pierce was awarded a four-year baseball scholarship. Pierce was also a member of the 1965 Texas State AAAA High School Baseball championship team from Dallas Samuell.